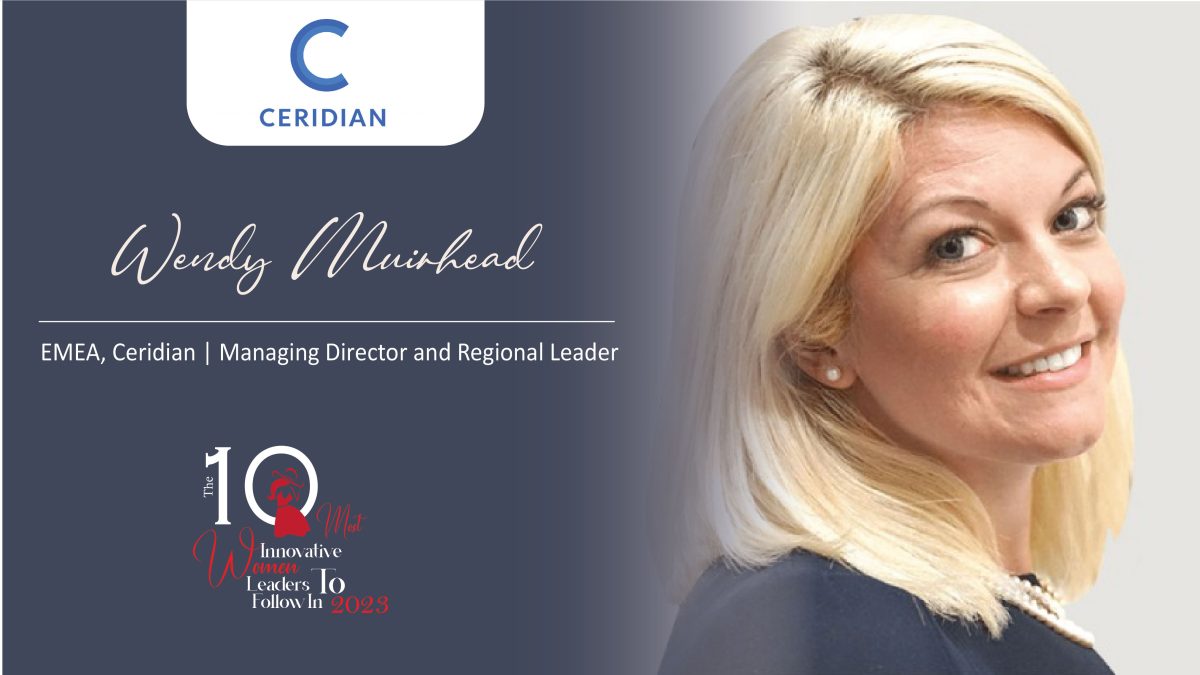 In a world marked by rapid technological advancement and dynamic work environments, the role of Human Resources (HR) and Human Capital Management (HCM) technology has become paramount. Wendy Muirhead, the Managing Director and Regional Leader for Europe, the Middle East, and Africa (EMEA) at Ceridian, has been at the forefront of embracing these changes and driving the transformative power of technology in the workplace. In an exclusive interview with Icon Magazine, Wendy shared her profound insights into the significance of HR & HCM technology, her role as a leader, the challenges she has surmounted, and her vision for the future of work.
Embracing HR & HCM Technology in a Changing Workplace
Wendy Muirhead underscores the vital role of HR & HCM technology in the contemporary work landscape. Beyond just streamlining administrative tasks, these technologies offer employees autonomy and flexibility, enabling them to strike a balance between personal commitments and professional responsibilities. One of the remarkable advancements is the ability to easily swap shifts, a practice that empowers workers to manage family commitments and unforeseen emergencies more effectively. Moreover, from a business standpoint, HR & HCM technology serves as a tool to swiftly connect customers with relevant teams, enhancing both employee experience and overall organizational effectiveness.
The Future of Work: Blending Technology and Human Interaction
When discussing the future of work, Wendy envisions a synergy between technology and human interaction. She stresses the importance of in-person collaboration in nurturing workplace culture. However, Wendy notes that the future of work is already unfolding before us—a digital realm that demands flexibility, digitization, and constant connectivity. Striking the right balance between remote and on-site collaboration is crucial. Leveraging digital technologies that simulate in-person interactions, fostering a culture of perpetual learning, and nurturing adaptability are key elements in navigating the evolving landscape of work.
Wendy Muirhead's Leadership at Ceridian
Wendy's role as the Managing Director and Regional Leader for EMEA involves steering Ceridian's growth in a sustainable and profitable manner while delivering measurable value to clients. Her strategy revolves around attentive listening, understanding customers' unique needs, and promptly aligning them with the right teams within the organization. This approach leverages modern technologies to empower clients to realize their full potential. Equally vital is Wendy's commitment to fostering a supportive culture for employees, ensuring their voices are heard and acted upon, thereby promoting fairness and equity in workplace practices.
Empowering Women in the Industry
Wendy Muirhead emphasizes the growing opportunities for women in the technology industry, particularly in leadership roles. Diversity of thought and experience, she contends, benefits everyone. Ceridian, under Wendy's leadership, is actively fostering these opportunities by ensuring diverse representation across its leadership levels. With a diverse board and management structure, Ceridian is committed to creating pathways not only for women but also for individuals with disabilities and from marginalized backgrounds.
Challenges and Advice for Women Leaders
Wendy's career trajectory wasn't always linear; she transitioned from finance to the payroll industry after becoming a mother. Her advice to women leaders is rooted in maintaining self-confidence and relentlessly pursuing aspirations. She encourages finding the right equilibrium between personal and professional commitments and underscores the significance of proper support structures.
Success Habits and Future Outlook
Wendy's success habits revolve around active engagement with customers and teams, striking a work-life balance, and embracing lifelong learning. Her ability to listen actively has been instrumental in her success, as has her dedication to managing both her personal and professional life effectively. Looking ahead, Wendy envisions herself further contributing to Ceridian's growth and enabling customers and employees to tap into their full potential.
Balancing Work and Life
Striking a work-life balance, Wendy believes, requires setting clear boundaries and confidently saying no when necessary. She acknowledges that it's not always easy, particularly as a working mother, but it's achievable with proper support. Wendy finds that her role as a mother enhances her performance in the workplace, just as her professional achievements enrich her interactions with family and friends.
Advice for Aspiring Tech Professionals
For those aspiring to a career in the technology industry, Wendy's advice is clear: seize opportunities without hesitation. She encourages involvement, inquiry, and surrounding oneself with the right people. Wendy highlights that a tech career isn't confined to those with formal tech degrees; the sector values diverse skills that can be applied creatively.
In the ever-evolving landscape of work, Wendy Muirhead's insights serve as a beacon of guidance. Her leadership exemplifies the transformative power of HR & HCM technology and the importance of fostering diverse, inclusive workplaces. As technology continues to reshape our professional lives, Wendy's philosophy underscores the significance of embracing change, fostering collaboration, and empowering individuals to reach their fullest potential.
Related posts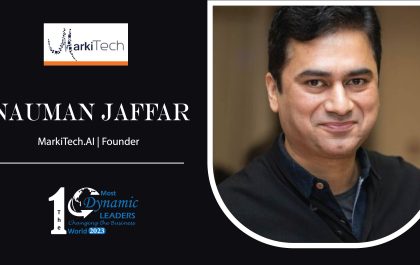 Nauman Jaffar: Revolutionizing Healthcare with Innovative Technologies
Nauman Jaffar, the founder and CEO of MarkiTech, is a serial entrepreneur and visionary leader in the health-tech sector. With…