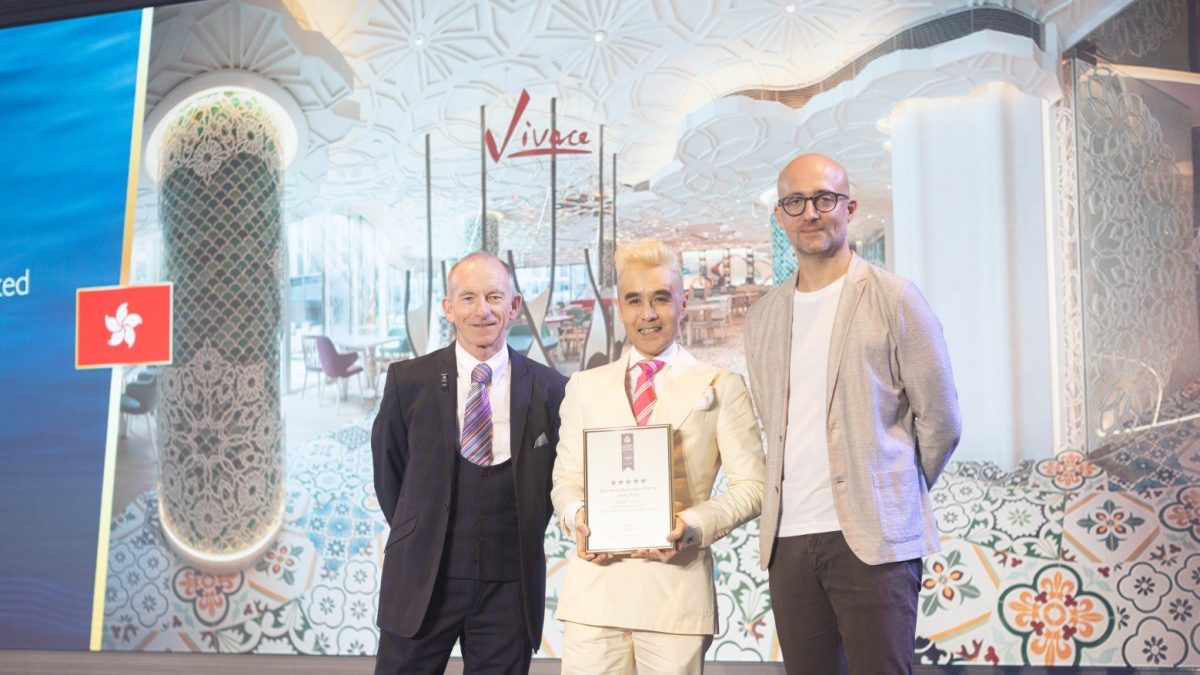 Alexander Wong Architects from Hong Kong is honoured to have won a Major Design Award at the prestigious "Asia Pacific Property Awards 2023-24" held at Bangkok Marriott Marquis Queen's Park in Bangkok on Tuesday 30th May 2023 for their Interior Design of Hong Kong's Vivace of Regala Skycity Hotel at Hong Kong International Airport.
"Asia Pacific Property Awards 2023–24" (part of the "International Property Awards") is an International Design Award event with participants from Australia to China; Singapore to Vietnam, recognizing those who have significant contributions towards Architecture, Interior Design over the previous year. It is highly regarded by the International Real Estate Industry Worldwide. This year, Alexander Wong Architects has won "5 Star ★★★★★ Best Hotel Restaurant Interior (Hong Kong)" for Vivace of Regala Skycity Hotel.
This International Award reaffirms Alexander Wong Architects' leading position in Asia Pacific's Interior Design in Hospitality and Themed Dining.
About Vivace‧Ice & Fire
"Everything You Could Imagine Is Real." — Picasso
International Air Travel has always been one of the most iconic manifestations of modern human civilization. The newly completed Regala Skycity Hotel situated at the Hong Kong International Airport revisits the glamour of our golden age in world travelling while reigniting a new excitement for global explorations by future generations.
In a unique context to entertain the global nomads from all over the world, this grill room providing international cuisine on the pool deck & garden on level 3 is named "Vivace". Originally conceived as a special venue with a Spanish touch, the grill room sets out to please as well as to satisfy visitors from all over the world whose appetites for food and desire for novelties go hand in hand. From the beginning of its inception, the contrast between icy drinks set against hot grilled meat dishes continues to inspire a design that would exemplify a fusion of cool sophistication with a passion for travel as well as living the international high life. There is a strong Catalonian theme celebrated here partly based on the design of Antionio Gaudi, arguably one of the greatest architects of all time. The ceiling design alludes to snowflake patterns filled with colourful stained glass and the original inspiration is of course from Gaudi's famous Sagrada Familia in Barcelona. Most of the furniture pays homage to Modern Spanish Masters but with a touch of Spanish Surrealism as inspired by Dali. These art-like sculptural pieces are set against columns as well as on flooring covered with colourful Iberian ceramic tiles to match. The giant spiral glass screens and the spiral vertical sunshades are like modern art pieces dancing blissfully to the rhythms of Spanish Flamenco music. Inside the bathrooms, blue agate is complimented by amazon green marble as inspired from Tiffany stores. The vanity mirrors pay homage to Gaudi's designs but with a twist of abstraction. Outside, the ribbon staircase, inspired by Heatherwick's Longchamp, allows visitors to reach the upper garden on level 5. In the outdoor courtyard, more Spanish surrealism could be discovered with special landscape design including the Bull Horn Bench as inspired by Spanish matadors and their bullfights.
Mr. Alexander Wong, Director & Founder of Alexander Wong Architects, reacts to the news, "I wish to thank International Property Awards for this great honour. Very special thanks to everyone at Regala Skycity Hotel for their incredible support. Through our design philosophy to provide innovation, excitement & glamour for Vivace without sacrificing functional needs, this Award is a wonderful confirmation of the realization of our Client's vision for the Hotel in this unique location in Hong Kong International Airport. We are delighted to have our original design recognized by the judging panel and will continue to raise the bar with all our future design endeavours."
During the Gala Dinner on Wednesday 31st May 2023, Vivace has also been nominated as one of the Best Hotel Restaurant Interiors in the Asia Pacific Region and will ultimately compete for the Best Asia Pacific Hotel Restaurant Interiors and the Best International Hotel Restaurant Interiors at the International Property Awards held in London either towards the end of this year or at the beginning of 2024.
Related posts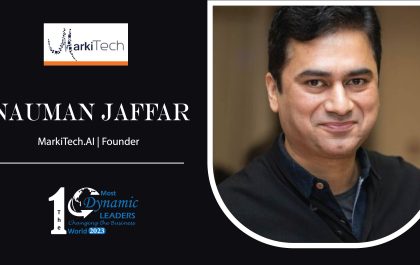 Nauman Jaffar: Revolutionizing Healthcare with Innovative Technologies
Nauman Jaffar, the founder and CEO of MarkiTech, is a serial entrepreneur and visionary leader in the health-tech sector. With…