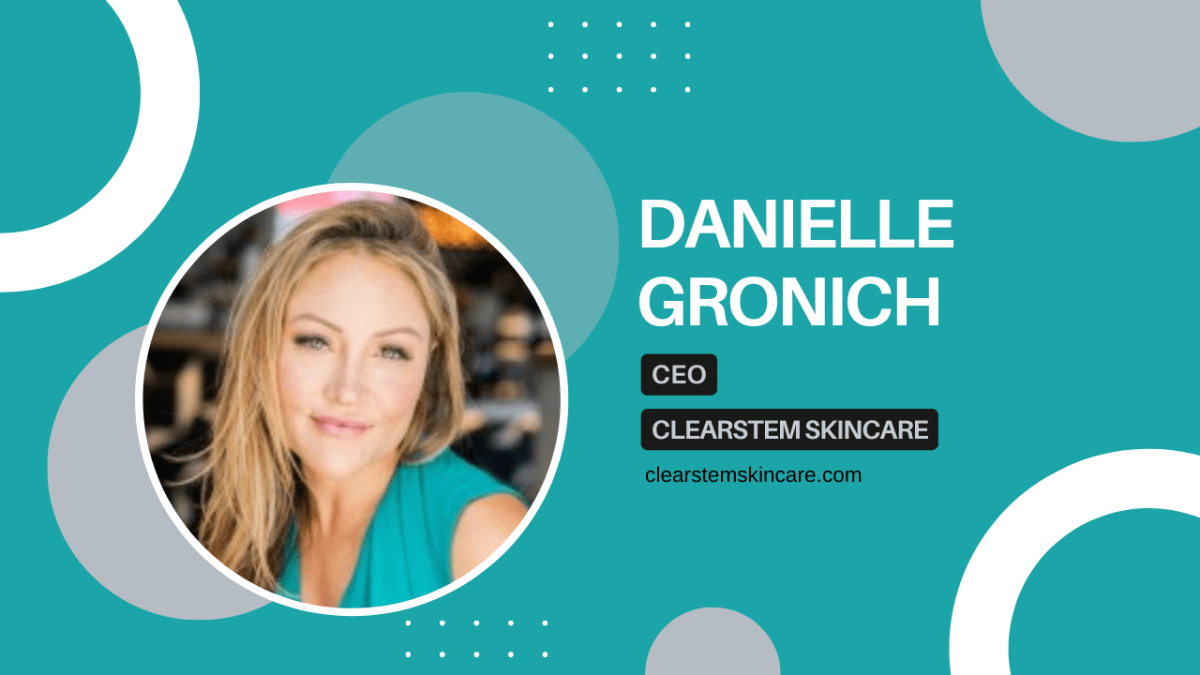 In this enthralling and illuminating conversation, we embark on a fascinating journey into the extraordinary narrative of Danielle Gronich, the driving force behind CLEARSTEM Skincare. Get ready to be spellbound as we uncover the remarkable odyssey that catapulted Danielle to the zenith of achievement in the fiercely competitive realms of skincare and entrepreneurship. Join us as she unfolds her personal saga, delves into the motives that kindled her ambition, and unveils the transformative path that led her to become a pioneering CEO.
A Personal Odyssey and the Fire Within
Danielle Gronich's ascent as a CEO began with a deeply personal struggle – a decade-long battle with chronic cystic acne. Frustrated by conventional remedies, she embarked on a quest for a toxin-free skincare solution that resonated with her holistic health principles. This fervent pursuit ignited her passion for cellular biology and genetics, eventually leading her to become a licensed clinical esthetician and a recognized acne specialist. In 2014, the San Diego Acne Clinic was born, and Danielle earned the moniker 'The Acne Guru™' with an astonishing 98% success rate in transforming the lives of diverse clients.
Having witnessed a myriad of complex cases, Danielle recognized that acne had multiple triggers. This realization paved the way for the birth of CLEARSTEM Skincare in 2017, solidifying her relentless quest for a holistic approach to skincare – one that combats both acne and aging without the interference of hormone-disrupting chemicals or pore-clogging fillers.
Monumental Milestones
While revenue growth and business success are certainly markers of triumph, Danielle's proudest moments lie in the profound impact CLEARSTEM Skincare has on individuals. Her products and protocols have been instrumental in helping countless people regain their confidence and achieve clear, radiant skin after years of grappling with acne. These transformations serve as the driving force behind Danielle's unwavering commitment to her mission. Furthermore, since 2020, CLEARSTEM Skincare has experienced unprecedented growth, affirming its status as a beacon of success.
The Art of Leadership and Empathy
Danielle's leadership style is a testament to candid communication and emotional intelligence. At CLEARSTEM Skincare, a culture of open dialogue prevails, ensuring that issues are acknowledged and addressed promptly. The team has access to a therapist, fostering a work environment that is both positive and solution-oriented. Danielle's ability to lead with empathy and authenticity has forged a resilient, motivated team that significantly contributes to the company's triumphs.
Setting the Gold Standard in the Industry
CLEARSTEM differentiates itself by offering real, enduring solutions and educating the community about the root causes of skin conditions. Rather than chasing fleeting trends, the company prioritizes research-backed information and product efficacy. They provide insights into the true triggers of skin issues, including dietary factors, improper supplementation, and lifestyle-induced stressors, which has earned them a dedicated and appreciative customer base.
Navigating the Storms
As a CEO, Danielle has confronted her share of challenges, including a packaging mishap that led to a typo on a significant order. With grace, authenticity, and humor, the team handled the situation masterfully, preserving the trust and support of their community.
Guiding Principles of Success
Clear and consistent communication is a cornerstone of Danielle's decision-making process. She firmly believes that nurturing effective communication is pivotal in maintaining a harmonious team dynamic, especially in the context of remote work.
Staying Informed, Contributing to Success
CLEARSTEM stays at the forefront of industry trends through their dedicated PR and social team while also keeping a vigilant eye on market gaps. Danielle's unflagging dedication to research and education ensures that the company continues to deliver effective solutions and remains an industry leader.
Key Factors in the Journey
Danielle attributes her remarkable journey as a CEO to the presence of mentors and an astute business partner. Her curiosity, willingness to seek feedback, and resilience in the face of challenges have been instrumental to her success.
A Glimpse into the Future
Looking ahead, Danielle envisions CLEARSTEM expanding its mission to offer comprehensive and affordable telehealth services, empowering individuals to take control of their acne. The company also explores the development of more nutraceuticals to address a spectrum of skin concerns, cementing their position as a pioneering skincare brand.
Industry Accolades
For their extraordinary contributions, Danielle and CLEARSTEM Skincare have received prestigious industry accolades, including "Scrub of the Year" for their VITAMINSCRUB and "Product of the Year" for their SUNNYSIDE Brush-On Mineral Sunscreen from the Beauty Innovation Awards. Additionally, being recognized as "World's Inspiring Women Making a Difference in 2023" underscores the profound impact they've made in the skincare industry.
In summary, Danielle Gronich's journey as the CEO of CLEARSTEM Skincare is a testament to her unwavering dedication to providing genuine and effective skincare solutions while fostering a positive work environment. Her commitment to education, research, and an authentic passion for helping others radiates through her relentless pursuit of excellence in the field of skincare. To delve deeper into the root causes of acne and aging, search 'CLEARSTEM' in your podcast app and uncover the captivating expertise and story of Danielle and Kayleigh on top-tier podcasts.
Related posts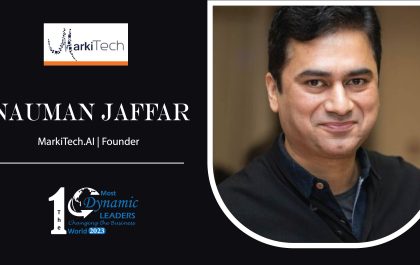 Nauman Jaffar: Revolutionizing Healthcare with Innovative Technologies
Nauman Jaffar, the founder and CEO of MarkiTech, is a serial entrepreneur and visionary leader in the health-tech sector. With…